Al-Khwarizmi Weekly #17: Crypto & Blockchain Weekly News Summary
Welcome to issue 17 of Kurdcoin's blockchain and cryptocurrency newsletter, Al-Khwarizmi Weekly. We bring you the latest and most important news and insights in the crypto market in just 5 minutes.
Market recap
Crypto market sentiment reached its highest point since Bitcoin's $69k all-time high this week, with the global crypto market cap reaching $1.27T, up from $1.25T last week. This optimism was fueled by a number of factors, including the news of BlackRock's spot Bitcoin ETF being listed on the Depository Trust and Clearing Corporation (DTCC) under the ticker iShares, as well as the continued growth of the decentralized finance (DeFi) and non-fungible token (NFT) sectors.
Bitcoin (BTC) and Ethereum (ETH) continued to lead the rally this week, with gains of 1.57% and 1.78% respectively. Other notable gainers include XRP, which rose by 9.1%, Arweave, which rose by 32.14%, and Gala, which rose by 22.91%.
The Fear & Greed Index, which measures investor sentiment, is currently at 72, which is in the "greed" zone. This suggests that investors are becoming increasingly bullish on the crypto market.
Get more frequent updates by following Kurdcoin on Linkedin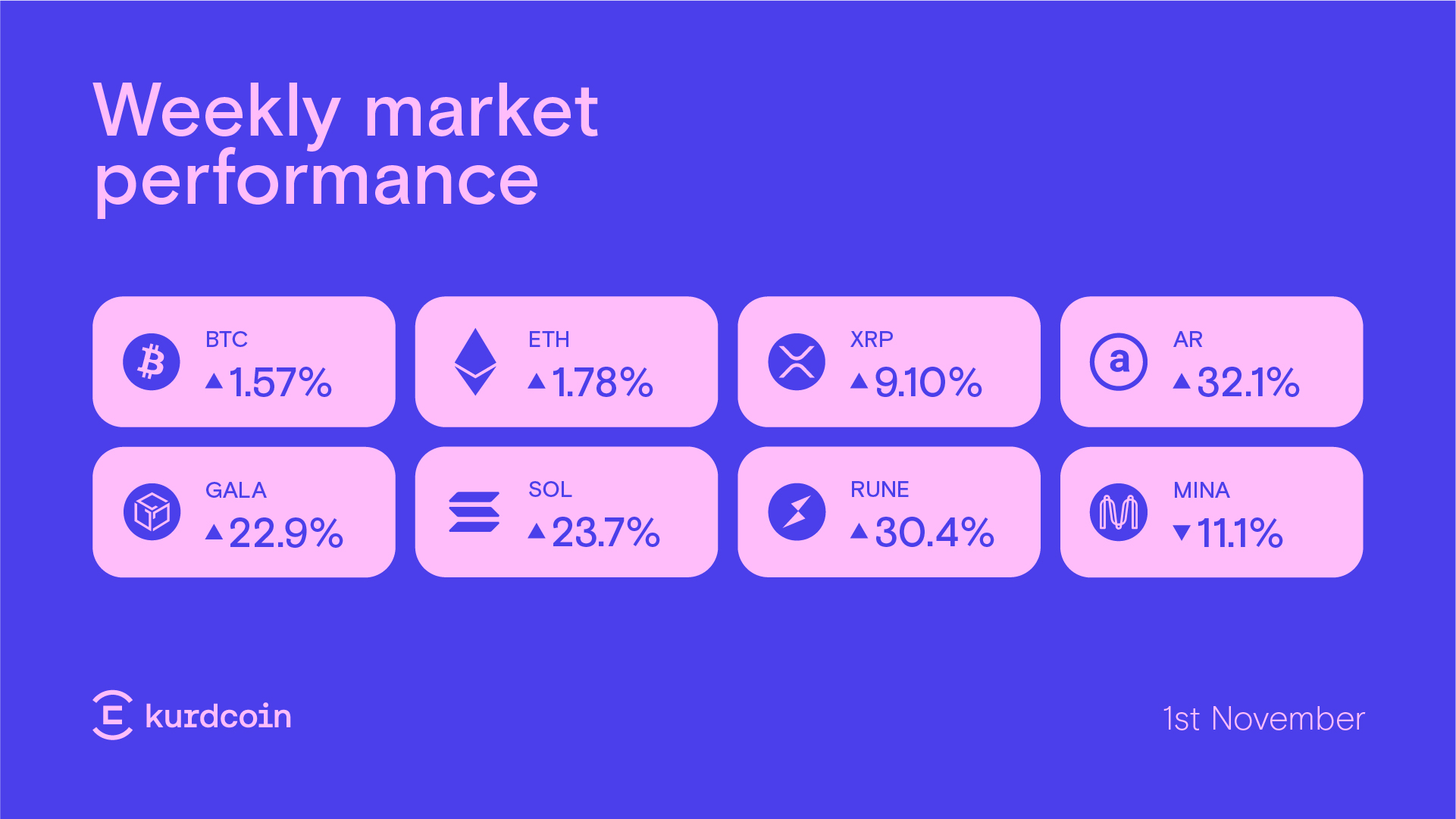 Top Headlines
UK Treasury finalizes crypto asset regulation proposals
The UK Treasury has published its final proposals for the regulation of crypto assets, which will require firms dealing directly with UK retail consumers to be authorized by the Financial Conduct Authority (FCA). The proposals also include stipulations for crypto exchanges to create detailed requirements for admission standards and mandate disclosures when listing new assets.
Telegram-Based Crypto Trading Bot Unibot Hacked, $600,000 Stolen, Token Crashes 40%
Telegram-based crypto trading bot Unibot was hacked on October 31, 2023, with over $600,000 in cryptocurrency stolen. The price of the UNIBOT token crashed over 40% on the news of the hack. The team behind Unibot has confirmed the attack and said that they are working to compensate users for any losses.
Middle East Headlines
Saudi Arabia's NEOM partners with Animoca Brands for $50 million investment and Web3 development
The partnership will involve Animoca working with NEOM to build Web3 enterprise service capabilities that will be applied globally, but first deployed in the Saudi capital, Riyadh, and the NEOM region. NEOM is envisioned to be a hyper-connected region with emerging tech and a hub for innovation. The partnership is part of Saudi's greater "Saudi Vision 2030" plan for increased economic, social, and cultural diversification. Majid Mufti, the CEO of NEOM Investment Fund, commented that Web3 technology and infrastructure development have the potential to revolutionize global industries.
Other News
Maestro Cryptocurrency Trading Bot Exploited for $500K, Refunds Promised
Maestro, a popular cryptocurrency trading bot, was exploited for $500K worth of memecoins on October 24. The team has identified and patched the exploit, and trading has resumed. However, tokens with liquidity pools on SushiSwap, ShibaSwap, and PancakeSwap's Ethereum deployment are temporarily unavailable. Maestro will issue full refunds to affected users. This incident highlights the risks of using trading bots, which require sharing one's private keys and introduce an additional layer of smart contract risk.
JPMorgan's JPM Coin Surpasses $1 Billion in Daily Transactions
JPMorgan Chase & Co.'s digital token JPM Coin is now processing $1 billion worth of transactions daily, a major milestone for the bank's blockchain initiative. Takis Georgakopoulos, JPMorgan's Global Head of Payments, said the bank plans to continue expanding use cases for JPM Coin, including cross-border payments and transactions with retail customers. The bank is also developing a digital deposit token to accelerate international settlements. Earlier this month, JPMorgan launched its Tokenized Collateral Network (TCN) on its Onyx blockchain to allow instant collateral transfers.
BlockFi Emerges from Bankruptcy, Customers Can Withdrawing Assets 
Crypto lender BlockFi has emerged from bankruptcy and is now ready to start repaying customers. Customers of BlockFi's custodial wallet can submit withdrawal requests today, but interest bearing account (BIA) and loan customers will have to wait until early 2024. BlockFi filed for bankruptcy in November 2022 after the collapse of crypto exchange FTX, to which it had significant exposure. The company is now working to recover assets from bankrupt firms, including FTX, Alameda Research, and Three Arrow Capital.
Buy and Sell Crypto Today
he quickest and safest method to purchase and exchange USDT and other digital assets is offered by Kurdcoin, the first and most trustworthy cryptocurrency exchange in Iraq. To get started, give us a call at 07509903000, and a member of our team will guide you through each step of the procedure.