Al-Khwarizmi Weekly #15: Crypto & Blockchain Weekly News Summary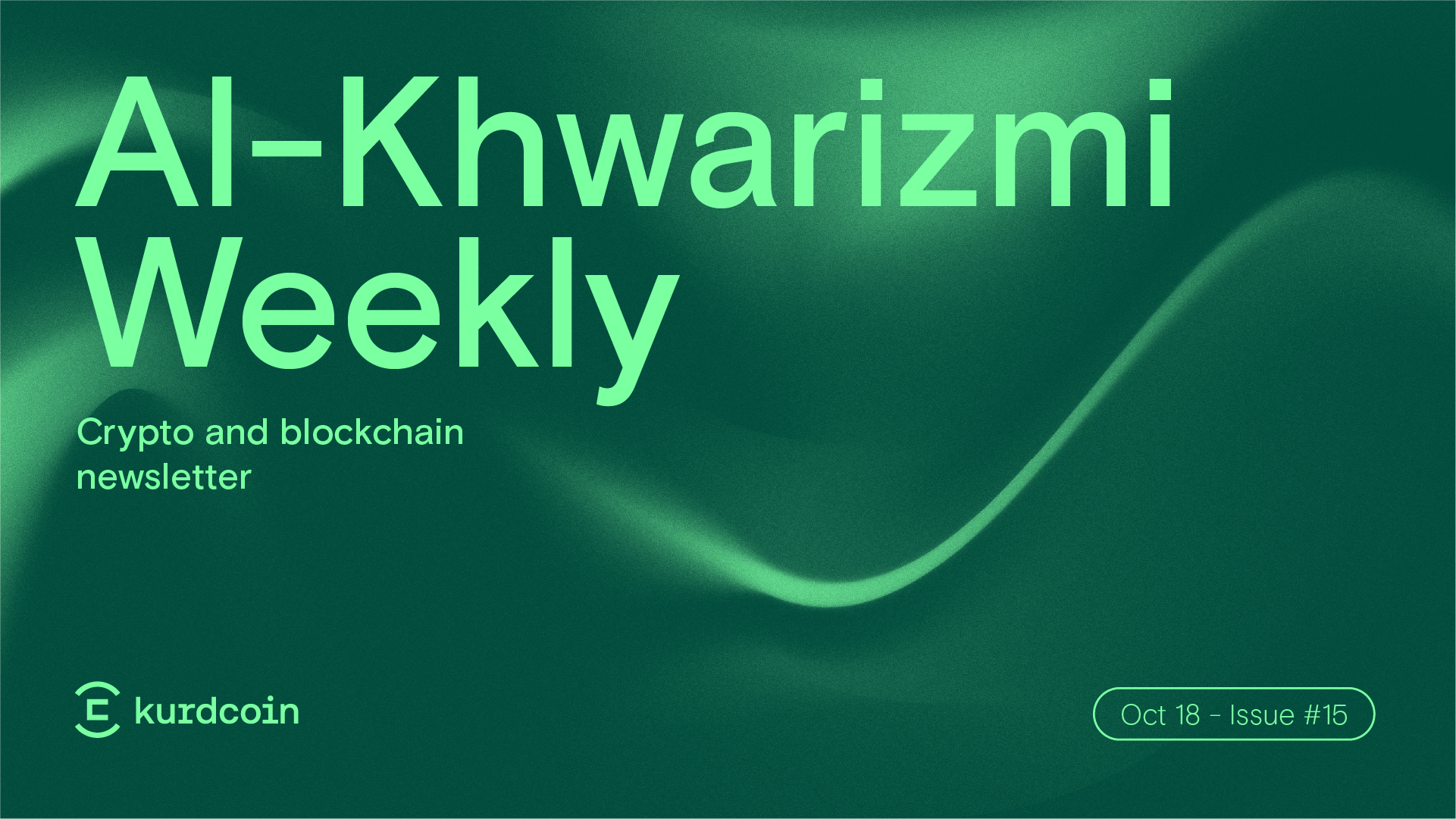 Issue 15 of Kurdcoin's crypto and blockchain weekly newsletter
Welcome to issue 15 of Kurdcoin's blockchain and cryptocurrency newsletter, Al-Khwarizmi Weekly. We bring you the latest and most important news and insights in the crypto market. Starting this week, we will publish the newsletter on Wednesdays.
Market Recap
The global crypto market cap is now $1.09T, up from $1.07T last week. Bitcoin (BTC) gained 5.34% this week, but only after a sharp sell-off on October 16th when the fake news of a spot ETF approval sent its price soaring. Other notable gainers include Bitcoin SV, which rose by 20%, Solana (Sol) rose by 8% and TWT rose by 14.5%, while the rest of the top coins and tokens remain relatively stable and continue sideways direction.
The Fear & Greed Index, which measures investor sentiment, is currently at 47, which is in the "neutral" zone.
Top Headlines
A false rumor about a Bitcoin ETF approval in the US briefly sent the price of Bitcoin soaring, triggering a $2,000 price surge and $100 million in liquidations. The rumor was circulated via the X account of crypto media outlet Cointelegraph, but was later deleted. BlackRock confirmed that the SEC has not approved its spot Bitcoin ETF application, and sources close to the SEC confirmed that the report was false.
In response to the recent crypto marketing regulations enforced by the Financial Conduct Authority (FCA) in the UK, prominent cryptocurrency exchanges, including Coinbase, OKX, and Binance, have entered strategic partnerships with local firms. Coinbase and OKX have joined forces with crypto startup Archax, while Binance announced a partnership with Rebuilding Society, a well-established peer-to-peer lending firm.
Middle East Headlines
In a recent development, Israeli authorities have frozen cryptocurrency accounts associated with the Palestinian militant group, Hamas. Following a multi-pronged attack by Hamas on Israel, which escalated into a state of war, Israel's police's Lahav 433 unit, in collaboration with the defense ministry, intelligence agencies, and crypto exchange Binance, targeted these accounts. Any seized funds are reportedly intended for the Israeli national treasury.
Other News
Visa is launching a pilot program to enable merchants to receive payments in USDC (a stablecoin) on the Solana blockchain. Building on its prior experience with crypto payments, Visa is collaborating with payment processors Worldpay and Nuvei to facilitate transactions settled in USDC.
The Financial Conduct Authority (FCA) has acted swiftly following the implementation of new regulations covering cryptoasset promotions. Within the first 24 hours of the new regime, the FCA issued a total of 146 alerts regarding cryptoasset promotions that may not comply with the law. These regulations, which took effect on October 8, 2023, require firms intending to promote cryptoassets in the UK to be authorized, registered by the FCA, or have their marketing approved by an authorized firm.
 On October 11, JPMorgan, a leading U.S. banking institution, unveiled its in-house blockchain-powered tokenization platform, the Tokenized Collateral Network (TCN). This innovative platform enables the conversion of traditional assets into digital assets, simplifying and enhancing on-chain settlements. Its first public trade involved asset management giant BlackRock, where TCN converted shares of a money market fund into digital tokens.
Crypto Alert
Real USD (USDR), a stablecoin operating on the Polygon blockchain and backed by a combination of real estate and DAI, has experienced a significant drop in value, plummeting to 52 cents from its previous one-to-one parity with the US dollar. The collapse was attributed to a liquidity problem, with all available liquid DAI from the USDR treasury being quickly redeemed, triggering a sharp decline in USDR's market capitalization.
Did You Know?
Bitcoin has faced numerous declarations of its demise from mainstream media a staggering 474 times since its inception, and this year alone, it's been prematurely declared dead seven times. Despite this persistent skepticism, Bitcoin continues to thrive as a prominent and resilient cryptocurrency.
Buy and Sell Crypto Today
Kurdcoin, Iraq's first and most reliable cryptocurrency exchange, provides the easiest and safest way to buy and exchange USDT and other digital assets. Call us at 07509903000 to get started, and a member of our staff will walk you through each stage of the process.