Al-Khwarizmi Weekly #16: Crypto & Blockchain Weekly News Summary
This newsletter issue in Kurdish
ئەم ژمارەیەی هەفتەنامەکە بە کوردی
Market recap
The crypto market saw a surge in optimism this week, with the global crypto market cap reaching $1.25T, up from $1.09T last week. This optimism was fueled by the news of BlackRock's spot Bitcoin ETF being listed on the Depository Trust and Clearing Corporation (DTCC) under the ticker iShares.
Bitcoin (BTC) led the rally, with a price increase of 19.47%. Ethereum (ETH) also saw strong gains, with a price increase of 13.73%. Other notable gainers include XRP, which rose by 12.59%, Solana, which rose by 31.76%, and Chainlink, which rose by 54.63%.
The Fear & Greed Index, which measures investor sentiment, is currently at 71, which is in the "greed" zone. This suggests that investors are becoming more bullish on the crypto market.
Get more frequent updates by following Kurdcoin on Linkedin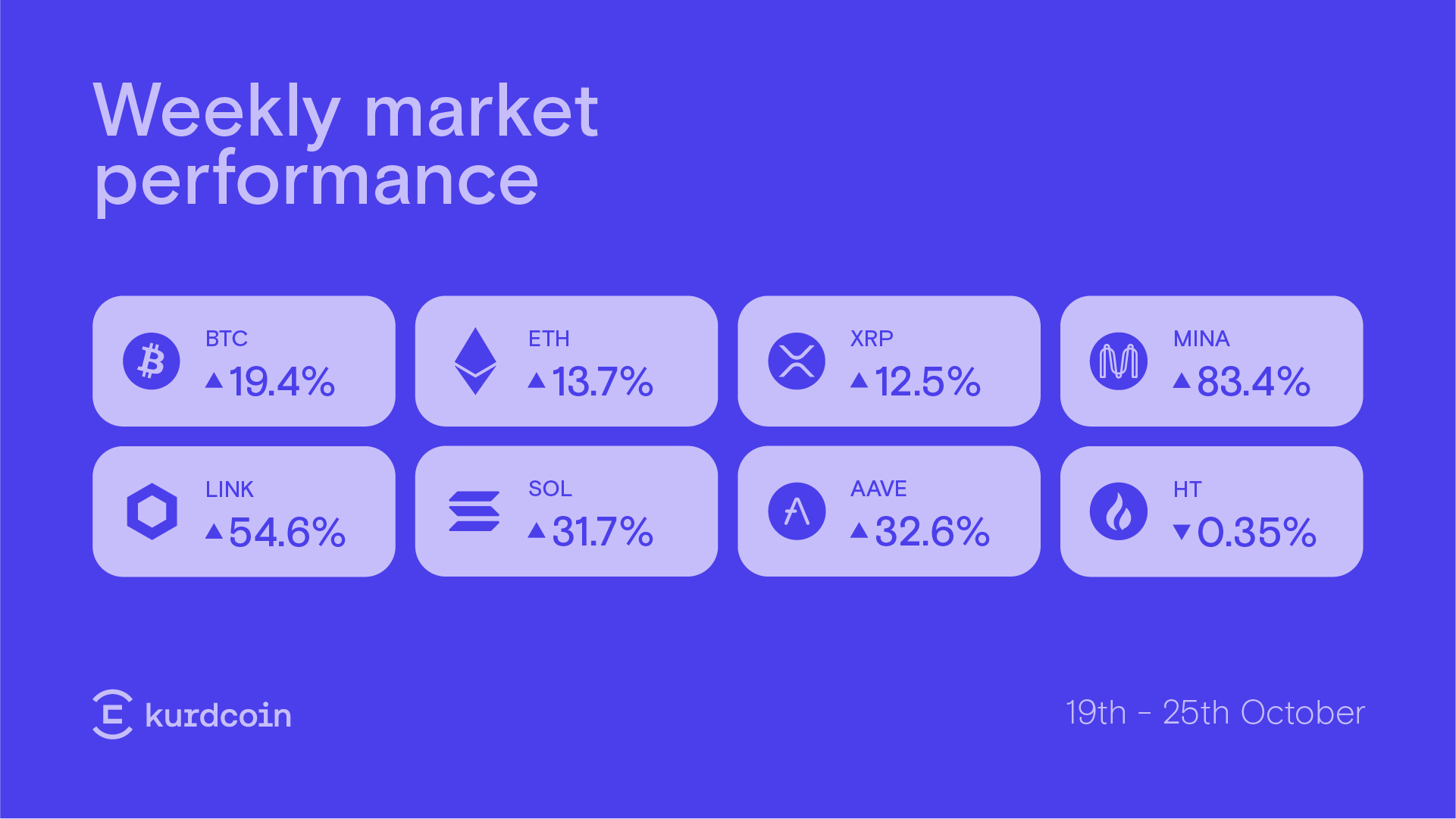 Top Headlines
Bitcoin surged to a 16-month high of $35,000 on Monday as institutional giant BlackRock took concrete steps to prepare for its launch of a bitcoin spot exchange-traded fund (ETF).
While BlackRock's proposed bitcoin ETF is still under regulatory review by the U.S. Securities and Exchange Commission (SEC), crypto analysts and markets insiders expect this institutional embrace of Bitcoin to bring as much as $200 billion into the market, driving the price to new all-time highs.
PetroChina, the world's largest oil refiner, has completed the first international crude oil trade using China's central bank digital currency (CBDC), the Digital Yuan. This marks a watershed moment in the integration of CBDCs into global commerce, with far-reaching implications for the international oil market and the growing role of digital currencies.
The deal, which took place on October 18, 2023, saw PetroChina purchase 1 million barrels of crude oil from an undisclosed seller using the Digital Yuan on the Shanghai Petroleum and Natural Gas Exchange (SHPGX). The exact value of the transaction remains undisclosed, but it represents a significant milestone in the application of CBDCs in global trade.
Middle East Headlines
The Crypto Aid Israel Initiative Raises $185K in 10 Days, Provides Aid to 4 Organizations Crypto Aid Israel, a collaborative effort between members of the Israeli Web3 community and international companies, has raised over $185,000 in less than two weeks and has already distributed aid to multiple humanitarian organizations. The initiative has conducted two rounds of aid distribution, providing approximately 200,000 shekels ($50,000) to various non-governmental organizations.
Ras Al Khaimah, one of the seven emirates of the United Arab Emirates, has launched a new free zone dedicated to digital assets, Web3, and AI. The RAK Digital Assets Oasis (RAK DAO) is designed to support companies involved in these emerging technologies, including the metaverse, blockchain, utility tokens, virtual asset wallets, non-fungible tokens, decentralized autonomous organizations (DAOs), decentralized applications, and other Web3-related businesses.
Other News
Tesla still holds 9,720 bitcoins, worth around $275 million, according to its latest quarterly earnings report. This is despite Musk's apparent change of heart about bitcoin in 2021, when he sold off most of Tesla's bitcoin holdings due to concerns about its environmental impact. It is unclear whether Tesla's continued holding of bitcoin is due to a conviction about its value or a desire to avoid further losses. However, the news has been welcomed by the crypto community, as it suggests that Tesla may be open to resuming bitcoin payments in the future.
Binance, the world's largest cryptocurrency exchange, will shut down its Visa debit card services in the European Economic Area (EEA) on December 20. The company's card issuer, Contis Financial Services, has decided to stop issuing the card. The Binance Visa debit card allowed users to convert crypto in their Binance accounts into local currencies and use it to pay for purchases in stores and online.
The U.S. Securities and Exchange Commission (SEC) has dropped its lawsuit against Ripple chief executive Brad Garlinghouse and co-founder Chris Larsen. The move comes after a partial win for Ripple in July when a judge ruled that XRP sales on public exchanges did not constitute unregistered securities offerings. The dismissal is a major victory for Ripple and the cryptocurrency industry, and it could have a significant impact on the ongoing regulatory debate over crypto assets. It also suggests that the SEC may be rethinking its approach to enforcing securities laws in the crypto space.
Buy and Sell Crypto Today
Kurdcoin is the quickest and safest method to purchase and exchange USDT and other digital assets in Iraq. Give us a call at 07509903000 to get started, and a member of our team will guide you through each step of the procedure.