Al-Khwarizmi Weekly #3: Crypto & Blockchain Weekly News Summary
With each passing week, the cryptocurrency world sees exciting new developments. This week's Al-Khwarizmi Weekly brings you news of scammers coming to justice, new features of Brazilian Central Bank Digital Currencies (CBDC) being discovered, and bullish signals for Bitcoin adoption. We'll also take a look at the macroeconomic factors affecting the crypto market. So let's dive in!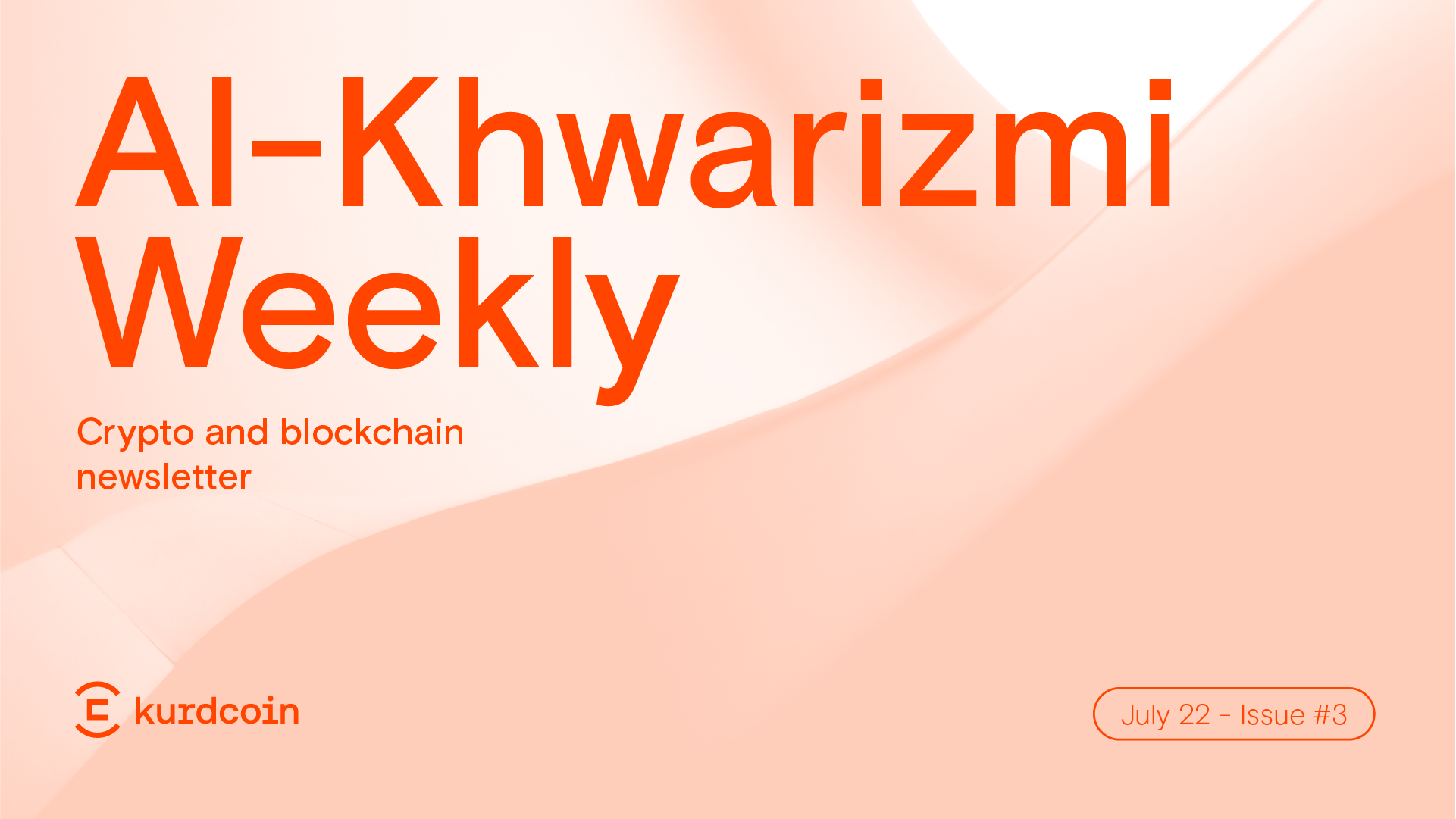 Issue #3 of Al-Khwarizmi Weekly
Middle East News
Crypto Scammer in the UAE Has Been Sentenced to 8 Years in Prison for Multi-Million Dollar Fraud
Nigerian citizen Olalekan Jacob Ponle, who previously resided in the United Arab Emirates (UAE), partnered with a team of fraudsters to impersonate various companies. They launched phishing attacks, deploying deceitful emails that tricked employees into transferring money, thinking they were acting on their employers' orders. Unbeknownst to the victims, the supposed "employers" were in fact the very fraudsters running the scam. According to Illinois federal prosecutors, Ponle has been sentenced for these past financial crimes, which primarily targeted businesses across the United States. Extradited from the UAE in July 2020, Ponle is now set to pay $8 million in restitution and forfeit luxury goods purchased with the illicit proceeds.
Global Headlines
Man Who Invested $740K With the 'Crypto King' From Ontario, Canada Has Allegedly Kidnapped Him
Trusting others to invest for you is often a risk, and in one case in Ontario, Canada it has turned into a kidnapping. A man from the city of London had invested over $740K in cryptocurrency with the help of a self-proclaimed "crypto king". The man believed he was doing the right thing by taking justice into his own hands and allegedly kidnapping the Crypto King to get his money back. Four individuals were charged by Toronto police for kidnapping Pleterski and holding him for ransom for three days last December. Reportedly, Pleterski is said to owe a minimum of $35 million to cryptocurrency and foreign exchange investors.
Developer Sounds the Alarm on Brazilian Central Bank Digital Currency's Fund Freezing Feature
Fear looms over Brazil after a developer of software for the new Brazilian Central Bank Digital Currency (CBDC) raised concerns about its ability to freeze funds. Pedro Magalhaes, who is the founder of Iora Labs (a Web3 consulting company) and a blockchain developer, shared his discoveries from the Brazilian CBDC pilot on social media. Magalhaes reverse-engineered the CBDC's pilot project code on Github earlier this month and the alarming feature was confirmed to be a part of the final product according to local journalist, Vini Barbosa.
US Presidential Candidate Plans to Propose Backing The US Dollar With Bitcoin if Elected
As a 'dark horse' candidate for the US presidency, Robert F. Kennedy Jr. is determined to turn heads with his ideas and plans—including one to back the US dollar with Bitcoin if he is elected. This plan was outlined during a speech at a Heal-the-Divide PAC event. As a Democratic Presidential Candidate, Robert F. Kennedy Jr. Introduced a hard currency standard in the U.S. by backing 1% of issued T-bills with gold, silver, platinum, or bitcoin to start is already an impressive vision and the candidate plans to gradually increase allocation over time.
US Justice Department to Increase the Size of its Crypto Team
In an attempt to combat ransomware crimes, the US Justice Department is planning to create a new team specifically dedicated to cryptocurrencies. Center for Strategic and International Studies published the remarks made by Principal Deputy Assistant Attorney General Nicole Argentieri, which were released by the DoJ. The Computer Crime and Intellectual Property Section (CCIPS) and the National Cryptocurrency Enforcement Team (NCET) will merge into a single team with members qualified in cyber and digital currency investigations.
Binance Integrates Lightning, Enabling Increased Transaction Speeds for Global Users
The Lightning Network enables efficient transactions for Bitcoin by opening up channels between two or more participating parties to send multiple payments back and forth. Now, the world's largest crypto exchange, Binance has integrated with Lightning Network, meaning users can take advantage of faster and cheaper transactions. With the Binance platform, it is now possible for users to deposit and withdraw Bitcoin (BTC) by utilizing the Lightning Network, making the promise of transferability and scalability of Bitcoin a reality.
Indonesia Launches a National Crypto Exchange and Clearing House
In a recent statement, Indonesia's Commodity Futures Trading Supervisory Agency (Bappebti) announced its national cryptocurrency exchange is now operational. Asset exchange will only be permissible on this platform, making it the sole space in the country for such transactions. This indicates the government is serious about creating a legitimate crypto market in the country.
Crypto Exchanges Adjust to the Current Global Economic Conditions
Despite Binance's recent integration of the Lightning Network, many crypto-asset exchanges are having to adjust their operations in the wake of recent economic conditions. Binance is considering more layoffs with an additional 1500-3000 jobs. Meanwhile, Ark Investment Management sold off its $50 million worth of Coinbase stock. This profit-taking reflects the recent increase in Coinbase stock following potential news of a Bitcoin spot-ETF hitting the financial markets.