Al-Khwarizmi Weekly #4: Crypto & Blockchain Weekly News Summary
This week's issue brings you top crypto & blockchain headlines from the Middle East and beyond. We explore how cryptocurrency and AI are merging. We will cover the roll-out of U.S. Federal Reserve's FedNow, notable advances in Web3 development, reactions to regulations in Kuwait, and more. Let's get started.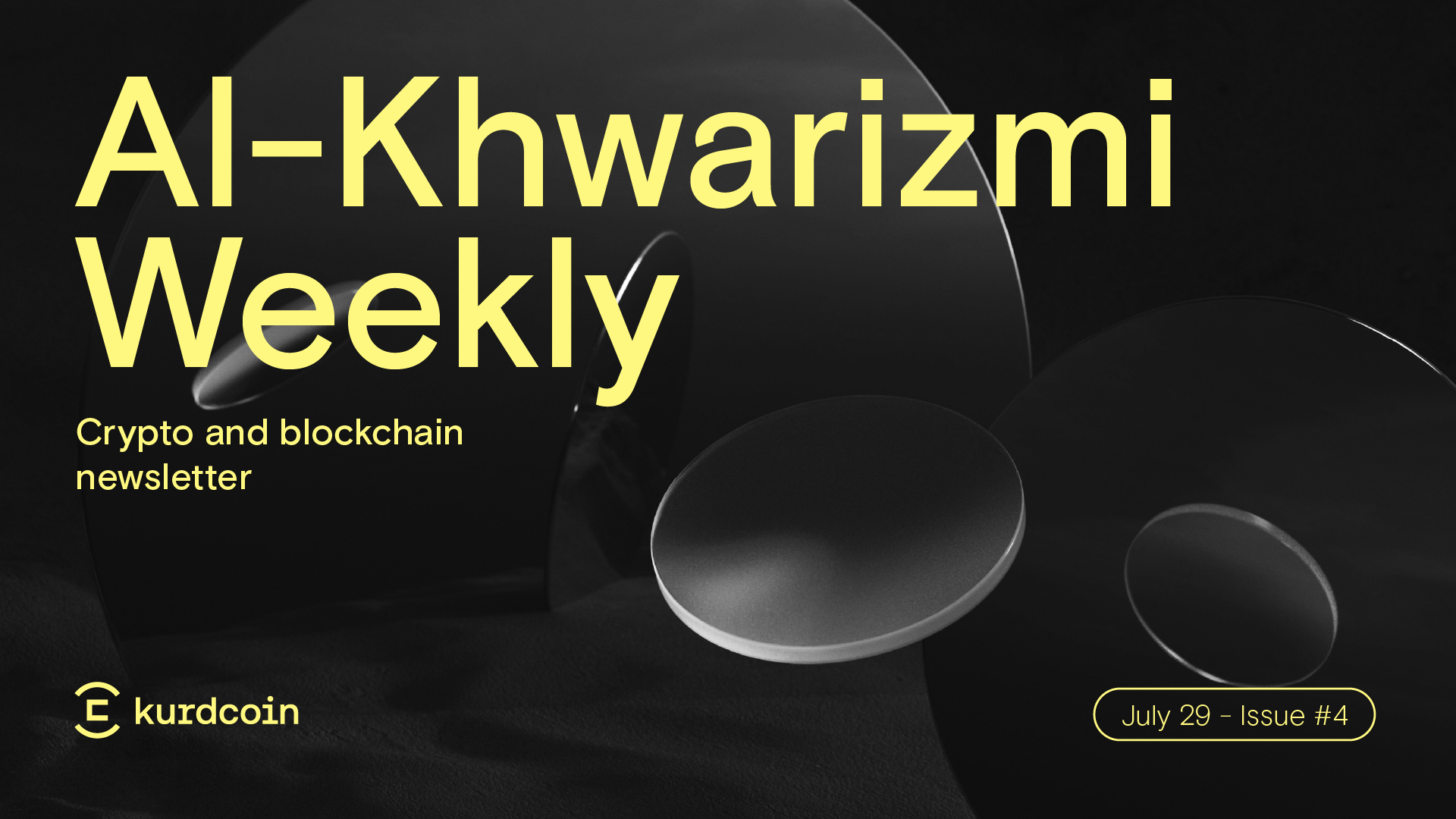 Issue #4 of Al-Khwarizmi Weekly
Middle East Headlines
Kuwait Bans Crypto Assets
In order to "combat money laundering", Kuwait has recently issued a new circular prohibiting the use of cryptocurrency for both payments and investments. This step is said to "reflect the country's commitment to ensuring the integrity of its financial system". Kuwait's Capital Markets Authority has also implemented a comprehensive ban on digital asset mining, categorically prohibiting the recognition of cryptocurrency as a decentralized currency. The public has been cautioned against engaging with companies that offer any form of crypto-related services.
Rain Gets ADGM Crypto License in Dubai
Rain has received Financial Services Permission from Abu Dhabi Global Market's (ADGM) Financial Services Regulatory Authority. This authorization allows Rain ADGM to provide a regulated brokerage and custody service for virtual assets within the ADGM. With this approval, Rain ADGM can now offer its clients a secure and compliant platform to trade and store their digital assets. It is worth noting that Rain was also the first crypto exchange in 2017 to receive crypto asset licensing from Bahrain's Central Bank. Rain ADGM will also provide institutional and retail clients in the UAE with the opportunity to purchase, sell, and securely store virtual assets.
Global Headlines
Sam Altman from OpenAI Starts New Cryptocurrency Project Called Worldcoin
Based in San Francisco and Berlin, Tools for Humanity is an innovative startup exploring a new crypto project titled 'World Coin'. You can to register via an in-person iris scan using Worldcoin's 'orb', a silver ball roughly the size of a bowling ball. The orb confirms that the individual is a genuine human through iris scanning and generates a World ID. This is designed to help combat the confusion between AI agents and human identities.
Crypto Miners Are Beginning to Utilize AI for Better Profitability
Applied Digital, a Texas-based cryptocurrency mining company, has just announced that it will host AI cloud computing in its data center in a deal worth $460 million. Despite Bitcoin's recent rally, it is still below its all-time highs, and some mining firms are looking for ways to enhance their profitability by utilizing their computing power for alternative uses. Mining companies have been hit hard by this bear market, and AI is a way to diversify their income while still utilizing their existing hardware.
The U.S. Has Officially Launched FedNow
Is a Central Bank Digital Currency on the horizon for Americans? FedNow may be the groundwork for a future disbursement of a CBDC. The Federal Reserve recently launched its real-time payments system, FedNow. The purpose of FedNow is to create faster payment options for financial institutions through an instant payment system. FedNow allows individuals and businesses to receive and use funds instantly, 24/7, unlike traditional banking systems which have limited operating hours. Will this lead to a CBDC in the near future?
Delio Warns That Their Lending Operations May Be in Danger After Asset Seizures
Delio, one of South Korea's largest platforms for lending cryptocurrency, was founded in 2018 and holds over a billion dollars worth of crypto. Following an investigation that led to the seizure of assets belonging to the South Korean crypto lender and its customers, the company has been forced to halt some interest payments. As the bear market rages on, this is a crucial moment for lenders as most of their revenue comes from loans and interest payments, so this could set a precedent for other financial institutions in the region.
McDonald's Hong Kong Partners With The Sandbox to Introduce McNuggets Land
In an effort to celebrate the 40th anniversary of Chicken McNuggets, McDonald's is joining the vast array of major brands entering the crypto industry. The Sandbox, an Ethereum-based game platform, recently announced a partnership with McDonald's Hong Kong to create an interactive augmented reality experience for users. Players will have the ability to tour the virtual world and win The Sandbox utility token. Custom avatars and the opportunity to win exclusive 365-day free Chicken McNuggets coupons are also up for grabs at any McDonald's within the region.
CEO of Bybit Discusses The Regulatory Outlook and Market Trends
Bybit's CEO, Ben Zhou, has provided insights into the regulatory landscape of the crypto industry, stating that regulators see it as a positive opportunity rather than a problem. During an interview with CoinDesk, the crypto exchange CEO elaborated on his optimism by explaining that Hong Kong has been investing heavily in the industry and attracting top talent to grow the sector. This shows that regulation may not hinder growth in the industry but rather help it expand.